Client Fundraising Page – Thanking Donors
How to Thank Your Donors as a Fundraiser
When someone donates to your fundraising page, you can post a thank you message to show appreciation. Learn how to thank your donors on your fundraising page and through email.
Before you start
There are 3 ways to thank donors. We recommend choosing the method that best fits your needs.
In this guide:
Thank from your activity feed
The easiest way to track and thank your donors is from your fundraising page. Visit your page and scroll down to your activity feed. Hit Reply under a donation and write your thank you message in the text block. Tap Post Comment to post your message and to send a notification email to the donor.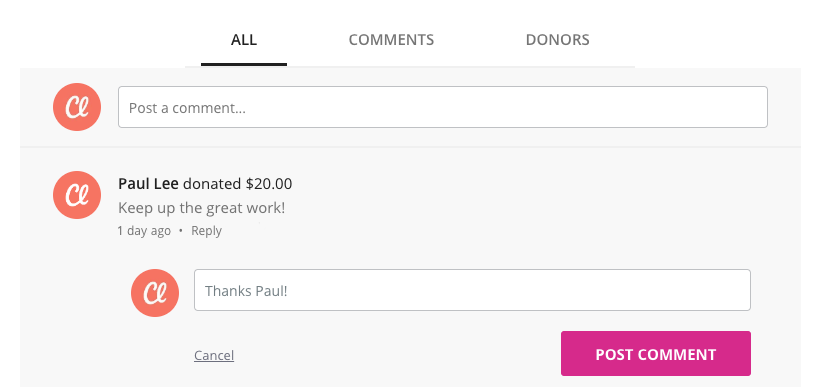 If you need to edit or delete your message, click Delete under your comment. After, you can write a new one or simply leave the comment deleted.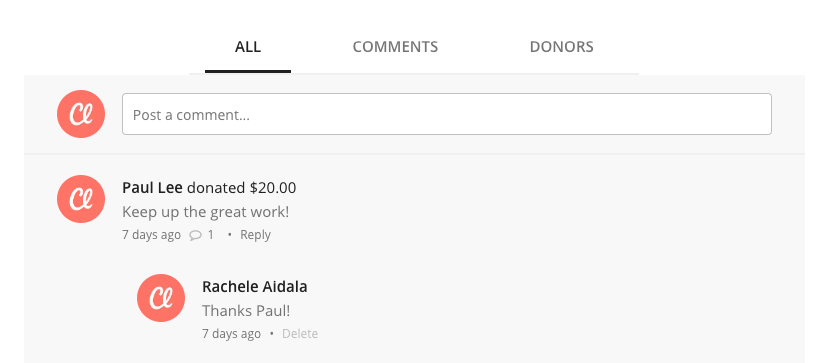 Thank from your editor
You can also thank donors from within your editor. To do so, select the Donations tab to view your list of donations. Any donors who haven't been thanked will have a Thank button next to their donation. Hit the button to write a thank you message.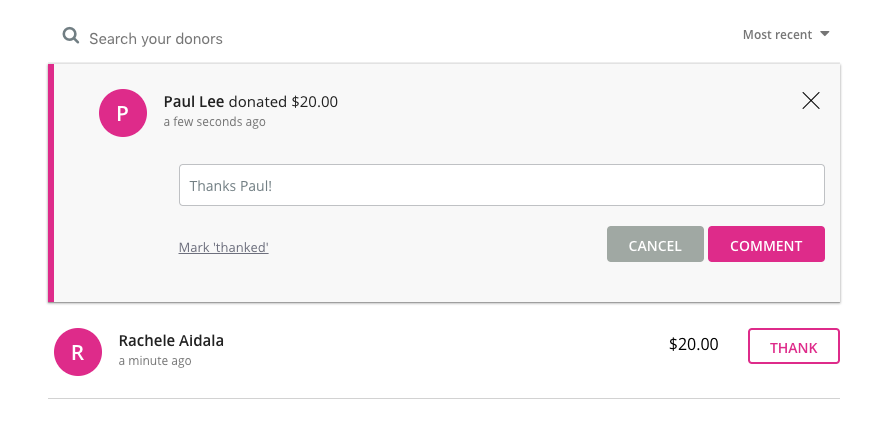 When your message is done, tap the Comment button to send it. The message will appear on your fundraising page's activity feed and be sent as an email to the donor. Thanking a donor also automatically marks them as 'thanked' (they'll have a check mark instead of the Thank button).
Thank using email
When donors submit donations to your fundraising page, they'll be asked to enter their email. Thank you messages and comments are sent to the email they enter. But if they change their email or you need to thank them at a different email address, you can.
We have a template message that you can copy and send to your donors. To access it, open your fundraising page editor and select Emails > Thank your donors.  The example below is a generic one that is not for NEADS specifically, but the one that you will see on your page has been tailored for our organization.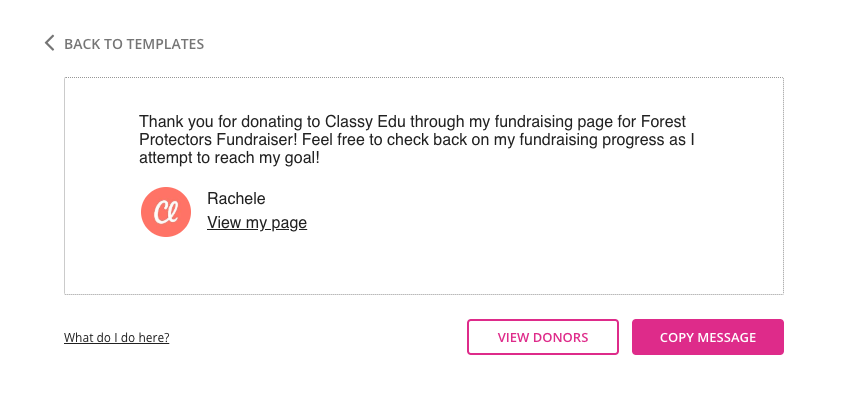 You can copy and paste the default message or you can customize it by typing in the text block. You can return to this template at anytime so you don't have to start new messages from scratch.

Tip: For personal or longer thank you messages, we recommend sending emails. For example, if a donor gives a particularly large gift you can post a comment and send a more personal thank you email to express your gratitude.
Note:  Classy builds the fundraising software for NEADS.  You may see their name from time to time.  If you have questions or issues with your fundraising page please contact NEADS first, and we can contact Classy is that becomes necessary.
https://support.classy.org/s/article/how-to-thank-your-donors-as-a-fundraiser